Returns in relation to Damaged or Flawed Wallcoverings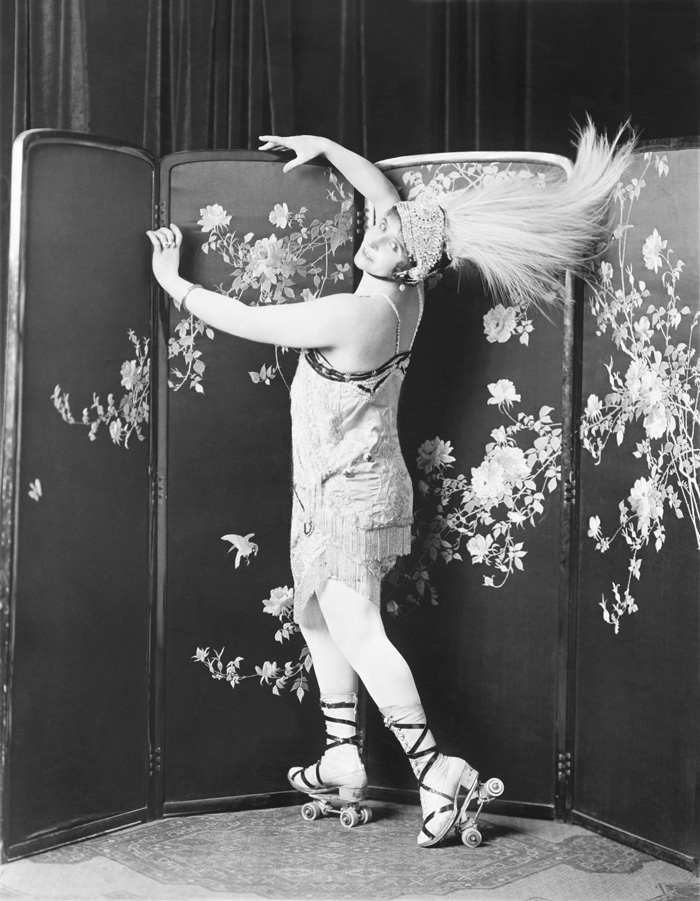 Damaged and Flawed Wallcoverings - What you need to know
With over 15,000 individual wallcovering products listed, we sell a lot of wallpaper!
'Touch-wood' the superior quality of the premium branded product we supply; and the care both our suppliers and shipping/courier companies take with orders, has meant that in nearly 5 years of online-store operation, we have had only two incidents involving wallcovering product being damaged or flawed .. period! (We firmly believe that this says something about the superior quality of our branded wallcovering products. - Something we are indeed very proud of).
These two incidents are good real-life use-cases that will help you understand the conditions and likely chain of events you will experience, if your wallcovering order when delivered; is not quite right and leads you to lodge a claim with us for a replacement-exchange under our Wallcovering Returns Policy.
In the first instance a customer ordered two rolls of a quality wallpaper and one of the rolls was slightly squashed in transit.
In the second instance the customer discovered two manufacturing flaws in the actual wallpaper.
Our returns policy is NOT a 'no questions asked return or replacement' policy
I guess the first thing to say is that our returns policy is NOT a 'no questions asked, return or replacement' returns policy. While that may sound stodgy and tight-fisted, such a policy is just not available with us or any other retailer we are aware of, when it comes to wallcovering product return-exchanges.
The absence of such a policy has nothing to do with a lack of confidence in the quality of the product we supply. - In fact, the leading brands are 'leading brands' simply because they have worked hard to ensure that their premium grade product is of the highest quality and that customers have a high level of satisfaction having made a purchase. - We feel the same way about their product and strive to ensure that our customer service compliments and enhances the reputations of the product brands we proudly supply.
With wallcoverings it essential that you do not cut or hang your wallpaper if you intend to make a claim. Returns for replacement claims are only considered if the wallpaper has not been cut or hung
The second, very important point to make, is that any claim made for wallpaper that has already been cut or hung will be unsuccessful. We ourselves, cannot lodge a claim with the manufacturers or distributors, if the wallpaper, on which any claim is based, has already been cut or hung.
Wallcoverings Damaged in Transit
It is in everyone's interest down through our entire supply chain to our company that your order is delivered in tip-top condition; That it is, well packaged and has made the journey to you safely and in perfect condition. - If, however, your order turns up and there is evidence that the shipping carton your order arrived in has in any way been crushed, dropped, or in some other way mishandled then please take note of the following:
If there is even the slightest doubt over the integrity of your order as received, please let us know by contacting us immediately. The sooner you contact us the sooner we can take action on our end to reserve replacement wallcovering roll(s) from the same dye-lot (if available) should you need to lodge a claim with us; and should that claim be successful.
The success of any claim will rely on your ability to demonstrate that your order damaged in transit, AND that the damage is severe enough to warrant replacement.
Even if you don't think the damage is severe or extensive, we highly recommend you do the following if; on inspecting the rolls, and after removing them from the packaging, you discover the damage is worse than on first appearance.
Take some photos of the carton before you open it. Most people have camera phones, so take a few pictures that 'show off' the damage prior to opening the outside packaging. Ensure the photos are well lit and convey sufficient detail to enable us and our suppliers to clearly understand the nature of the damage and hopefully draw inferences as to how it may have occurred in transit.
Once you have taken a few images of your order shipment pre-opening, go ahead and carefully open it to inspect the contents of your order shipment. With wallcoverings you want to check for any scuffs, marks, compression markings, or crushing of the roll. If it isn't perfectly round or there is evidence of other damage of any kind, take some pictures before you start to open the plastic covering the roll(s) are wrapped with.
With crushed, marked, scuffed or 'out-of-round' rolls of wallpaper, we will want to establish the full extent of the damage. In other words, does the crushing/marking or other damage, extend beyond the outside exposed wallpaper? - Or does the damage continue, and is evident, as you unroll the wallpaper (beyond just the initial first few turns of the paper round the roll)? - If so, we will want to know how much meterage is affected and photographs are the best way to demonstrate this. - An out-of-round roll while disappointing, is not sufficient grounds for warranty replacement unless there is evidence that the damage has likely compromised the integrity of the wallpaper and the overall presentation of your project once hung. For example, damage that compromises the integrity of the wallpaper may include the pattern being stretched, skewed or in some other way impacted by the compressing forces the damaged roll(s) has been subjected to
Send us your photos along with any pertinent details you think we should be aware of in support of your claim.
Ideal Drape Makers, as well as the brands behind the products we supply, recommend ordering sufficient wallpaper to allow for two additional drops. While you might be working on a budget, it is also important to weigh up the cost of having to halt your project while a possible returns/replacement claim is being lodged, assessed and processed. - This could be particularly disruptive if you have booked a trade professional to come and hang your wallpaper. - Also, consider that additional wallpaper may come in very useful for any future repairs you have to perform as a result of normal wear and tear over the wallcoverings lifetime on your walls.
Ideal Drape Makers, as well as the brands we supply, recommend you order sufficient wallpaper to allow for two additional drops.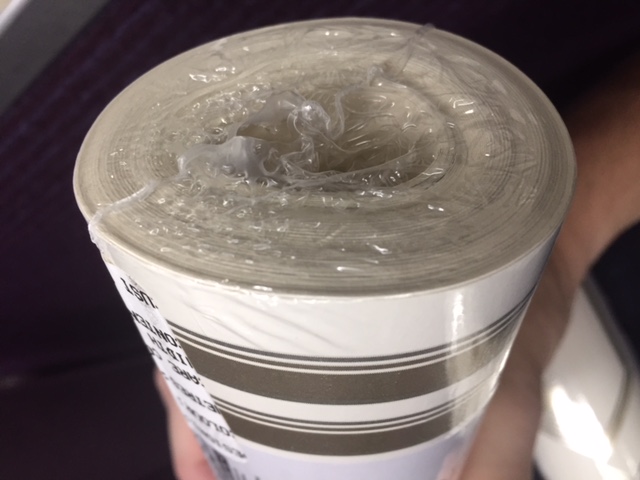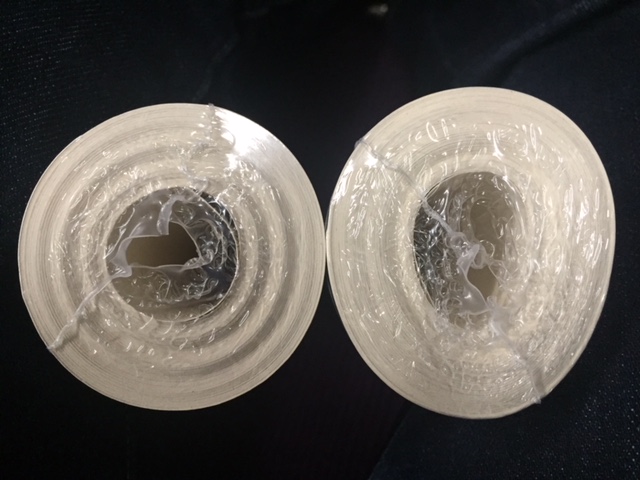 Use case 1 - Wallpaper Damaged in Transit
Generally, if the damage is severe enough, that it renders a good portion of the roll unsuitable for hanging, your claim will in all likelihood be approved and a return authorisation issued for a replacement roll dispatched to you on receipt of the damaged returned roll(s).
Do not return your damaged or defective wallcovering product without first being instructed to do so by Ideal Drape Makers.
In the two images above, our customer ordered two rolls of a popular premium quality wallpaper. While it is quite obvious that one of the rolls has been affected during transit, the lack of any damage found on subsequent opening of the 'out-of-round' roll resulted in the claim being withdrawn. Suffice to say that the success of your claim will depend on the actual damage to the wallpaper and not the simply the inference of damage
The more evidence you can provide to support your claim, the more quickly a claim can be assessed and a determination made.
Once a claim has been approved and provided stock is available, an exchange replacement will be arranged. It is reasonable to expect a similar timeline for the replacement delivery, as was the case with your initial order. (once the faulty wallpaper has been returned)
In all cases our immediate response is to see if we can reserve replacement stock from the same dye-lot/batch (if available) pending the outcome of your claim. - So the sooner you inform us of a pending claim, the greater the likelihood there is that we will be able to reserve a replacement roll(s) of the same wallpaper product from the same dye-lot/batch.
Manufacturing Flaws in Wallcoverings
Manufacturing flaws from our experience, are not only rare with wallcovering products; they an 'order of magnitude' less common than they are for fabric bought by the entire roll (as opposed to cut length purchases).
It is an accepted norm, common among wallcovering manufacturers, distributors and retailers, that there is a tolerance for up to 3 flaws per roll of wallpaper. This is why we recommend you allow for an additional two drops of wallpaper when calculating how much wallpaper you require for your project.
It is accepted norm, common among wallcovering manufacturers and suppliers, that there is a tolerance for up to 3 flaws per roll of wallpaper.
That is not to say if you find a glaring flaw in the wallpaper, that compromises the entire motif, pattern, overall presentation and likely success of your project, that you should not lodge a claim with us. - It is always worth checking with us.
We are, however, forewarning you that the although, from our experience, the incidence of manufacturing flaws are rare, they do occur and that manufacturers policies all stipulate that there is some degree of tolerance for this (it is not limited to a single brand, distributor or supplier). This means that, depending on the nature of the flaw(s), your claim may not be approved for replacement exchange.
It is essential that if you intend to lodge a claim for a replacement roll(s) that you do so before the wallpaper is cut or hung. If in doubt, don't cut or hang your flawed product and contact us immediately.
It is also essential that if you intend to lodge a claim for a replacement roll(s) that you do so before the wallpaper is cut or hung. I have already mentioned this more than once above, but I think it worth re-stating this point, to drive home the importance that it is pre-requisite condition that the success of any claim for exchange-replacement is predicated in addition to the assessment of the actual damage or manufacturing flaw(s)/defect(s)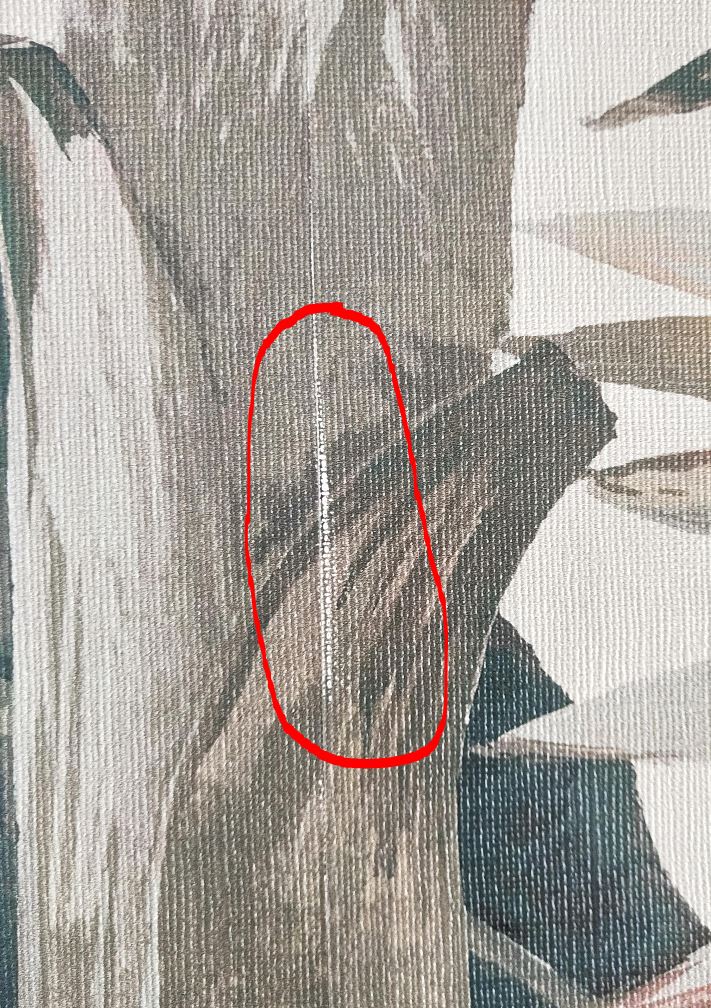 Use Case 2 - Manufacturing Flaw
In our second use case, where it was demonstrated that there was indeed not one but two manufacturing flaws not visible until the wallpaper was fully unrolled, the claim was still denied as the wallpaper had already been cut and hung.
While, within the manufacturers stipulated tolerance of 1-3 defects per roll, we nevertheless felt this case had some merit due to the flaws being so large and noticeable. However, the claim was rejected purely on the basis that the wallpaper had already been cut and hung. - it could, therefore, not be returned for exchange.
Unlike wallcovering rolls damaged in transit, manufacturing flaws may not be immediately apparent in your wallpaper when you receive it. We recommend strongly that you unroll and fully inspect your wallpaper before cutting or hanging it.
Further, if you are having a trade professional hang the wallpaper for you, it is recommended you fully inspect your wallpaper prior to the professional turning up on your site.
Once again, if the wallpaper has been cut or hung your claim is likely to fail. If the flaw is deemed by the manufacturer or distributor as within the 1-3 flaw tolerance, your claim is most likely going to fail. (but a lot will depend on the nature of the flaw and flawed wallcoverings are assessed on a case by case basis).
Even if you have good grounds for lodging a successful claim, the disruption and expense of a second call-out of a professional hanger will in all likelihood outweigh the benefit of a replacement-exchange roll (assuming your claim is successful)
In use-case 2, The flawed wallcovering was hung without being thoroughly inspected prior to the commencement of the wallpaper being cut and hung by a professional hanger. The claim was therefore denied.
If you are engaging a wallcovering professional to hang your wallpaper, DO NOT automatically assume that they will perform a thorough inspection on your behalf, before they commence cutting and hanging the wallpaper you supply them for your project.
When it comes to having wallcoverings professionally hung it is well worth purchasing the extra allowance of an additional two drops to mitigate the risk of defects or other damage and ensure you can complete your job on time and within budget. (You should keep any leftover wallpaper at the conclusion of your project as it may come in handy (and will match coming from the same dye-lot/batch) should you need to undertake any repairs to the wallpaper due to normal wear and tear during its lifetime on your wall.
If you do find a manufacturing flaw or flaws, please do contact us if you think them significant enough to harsh your mellow. We always go into bat on behalf of our customers on all warranty claims.
If you do find one or more manufacturing flaws per roll and you feel them significant enough to warrant a claim then you can help us, help you, by lodging your claim as soon as possible. You can assist us greatly if you:
Contact us immediately upon discovery of a flaw or flaws. This will help us to ensure the fastest possible processing of your claim with the manufacturer or distributor. No fancy form. Just tell it like it is and don't hold back any punches.
Send us photographs of the flaw(s) ensuring that the photographs give an indication of scale and placement context within the roll(s) concerned.
Provide us with any other information you think may be pertinent to your claim.
Put aside the roll, uncut and un-hung and we will keep you advised on the progress of your claim as we have it processed as quickly as we possibly can. (From our limited experience, due to a lack of claims, we have found we can usually get a decision/outcome within a week, during which time the manufacturer or distributor may request further information through us, from you)
Whether your wallcovering order is damaged in transit, or contains manufacturing flaws, we will always do our very best, to ensure any claims are processed quickly. - We want happy customers, and while claims are a rare event for us, we nevertheless do our very best to chase down a successful outcome, on your behalf, if at all possible.
When you receive an order for wallcovering product, above all else, ensure that you thoroughly inspect the packaging for signs of damage or distress. When it comes to any manufacturing flaws it is important that you also unroll the wallpaper to check for any flaws. While this may sound overly onerous, it is the only way to ensure that if you do find flaws you meet thre pre-requisite condition that exchange-returns partly dependent on the wallpaper not being cut or hung.
If you are engaging a wallcovering professional to hang your wallpaper do not automatically assume that they will perform a thorough inspection prior to cutting or hanging your wallpaper. It is a common manufacturers recommendation and our own that you order sufficient wallpaper for two additional drops over and above what you have estimated for your project.
It is not our intention to 'scare you off' purchasing our wallcovering products. We do, however, feel that by being open and transparent about how our wallcovering returns policy works through the use of real-life incidents we have dealt with, you will have realistic expectations should you receive a 'damaged in transit' or 'flawed' (faulty) roll or rolls of our wallcovering products from us.
If you do find you have received damaged or defective product, please contact us as soon as possible. If you are uncertain as to whether you have grounds for a claim, contact us anyway. - The sooner you act the more quickly we can work with you in seeking a resolution.
---
---
---