How do I Order a Fabric or Wallcovering Sample?
Ordering free or paid fabric or wallcovering sample is simple.  
Go to the product page for the product for which you want to receive a sample: 
On the right-hand sidebar, you will see the 'Order a Free cutting'  or 'Purchase a Cutting'  option with a checkbox to the left.   Simply check the checkbox.   (Checking the checkbox has the effect of zeroing out the cost of the item for free cuttings.  For paid cuttings, the product price is replaced with the cutting price
Add a Quantity of '1' to your cart.  
The cutting should be added to your cart at zero cost or the nominal charge that is levied for some European and North American cuttings.  
No credit card is required at checkout for a free fabric sample.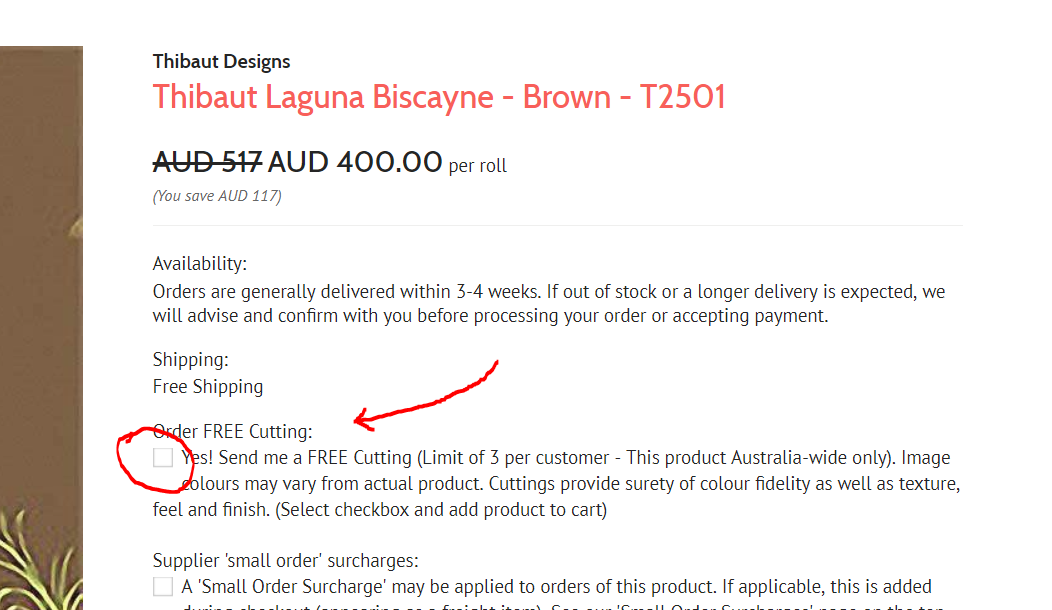 Please be mindful that we do not send fabric swatches to all countries. If you read the option for the cutting it will tell you if we actually ship cuttings to your part of the world.  
Some overseas brands impose a nominal cutting charge for cuttings.  This charge is passed through to our suppliers to offset the costs of importing cuttings from overseas.  The charge for each cutting is clearly marked on the product page.  Cutting sizes do vary and are usually small swatches that fit easily within your hand. 
If you have selected a product for which 'free' cuttings are provided and for any reason you find that your cart has a cost associated with it, then it will be because it was added without first checking the checkbox.  If this happens, remove the fabric from your cart and then re-add it after first checking the checkbox.  You should be fine after that. 
After you have finished selecting your fabric, simply proceed to checkout. Your credit card is not required to request a FREE fabric or wallcovering sample. 
You will receive a confirmation of your cutting order via email shortly after (almost immediately) upon completion of the checkout process.
There is nothing more to do except wait. We will keep you advised of your fabric sample order status changes. 
Be aware, that as free textile sampling are only sent by regular 'Aussie Post' that delivery time may vary (sometimes wildly from experience) if you have not received your free sample after 2 weeks, do drop us a line or call us on any of our phone numbers listed on the top banner of our online store. 
We can vouch for the fabric houses who will send you the cuttings, in that they are both reliable and prompt in sending out samples of fabric, wallcovering, wallpaper, etc. Do be mindful that many European and North American brand cutting orders can take around 3 weeks for the cuttings to reach you. 
Misplaced fabric sample is usually resolved by sending you a replacement cutting. We do have occasional 'lost in the post' instances, we can only put it down the reason for missing cuttings as 'postal gremlins'
For both paid and free cutting services, cuttings are ONLY sent via regular mail.
For your convenience, enquiries and requests for information about our postal service, including praise and/or complaints may be addressed by calling 13 76 78. (Australia Post Customer Service Line).
You can contact us on: 
1800 953 053 (AU) 
09 886 2856 / 03 669 4814 (NZ) 
800 046 5353 (UK) 
1800 2444 601 (CAN) 
1888 652 1337 (US) 
Or feel free to email us at info@idealdrapemakers.com.au
---
---
---